ABOUT US
---
Sierra Vista Presbyterian Church in Yuma, AZ, was established in 1956. The Mission of the Church is to make disciples by sharing Jesus with the world. Being good stewards of the resources entrusted to the church, we seek to do Mission in partnership with others. Mission Partnerships are intentional and our partners help us to engage our community and our world in sharing the Gospel.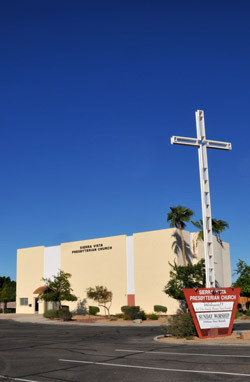 Our Mission Partnerships are:
Africa Inland Mission – We help support Crystal Echols, who is from Yuma, both financially and prayerfully as she works as a missionary in South Sudan.
Boy Scouts – Scouts BSA Troop 8054 and Club Scout Pack 8054 are sponsored by Sierra Vista. We provide rooms for these groups and churh members lead some of the groups. Both the Troop and Pack are active in Yuma.
Girl Scouts – The Sierra Vista Girl Scout Troop is identified by Troop 8054. This Troop is one of the largest in Yuma and the Girl Scouts of Southern Arizona Council. We provide rooms for these groups and some of the groups are led by church members.
Total Recovery – We reach out to those with addictions presenting a place to come together and learn together on the "Higher Power" that is Jesus Christ the Lord.
Care Portal – The Care Portal organization Connects churches to local children and families in crises by partnering with local child welfare agencies. We support the work of Care Portal financially in Yuma County and respond to aid families in need.
AZ Baptist Children's Services - Sierra Vista gives monthly donations of diapers and wipes for the SBCS Teen Pregnancy Center ministry to young mothers. Each year at Thanksgiving we adopt multiple families to receive a complete Thanksgiving meal. We adopt the same families at Christmas and provide gifts of clothing and fun gifts for the children in these families and we also provide Christmas dinner for the entire family.
Cocopah Church - We are excited to provide support to the Cocopah congregation and help them financially and exploring ways to share Jesus with the Cocopah Tribe.
Jesus Pan De Vida Presbyterian Church in San Luis, Mexico – This congregation is located in San Luis Rio colorado. We help support the church financially and with special projects for the church.
Crossroads Mission – The Crossroads Mission is one of the agencies that we help support financially monthly. Sierra Vista also provides monthly donations of food, toiletries and other items necessary
KCFY –  Sierra Vista advertises with KCFY Radio station which broadcasts a Contemporary Christian format.  Many of our members donate to the annual Share a Thon and also support the annual KCFY 108 hole golf tournament.
Our Community Partnership is:
Reach Out and Read – Each Spring during Lent we help support early literacy programs by collecting children's books (new and slightly used) to be given to children during well visits by Yuma County pediatricians. This Sierra Vista outreach is popular within the congregation and results in the donation of hundreds of books each year.
Other Mission Projects are:
Santa Rosa Presbyterian Church on the Tohono O'Odham Indian Reservation in sothern Arizona. We provide Christmas gifts to the children, share a celebratory with the tribal residents, and shate the love of Jesus Christ with all.
Souper Bowl of Caring – The Super Bowl of Caring is an annual event founded by a Presbyterian Youth Group. It is celebrated on Super Bowl Sunday. All proceeds are donated to the  Crossroads Mission.
Undie Sunday – Each September, in conjunction with the beginning of school, Sierra Vista collects new Children's underwear to be given to the Arizona Baptist Children's Services who assists families with providing basic needs.